MOST FOLLOWED GERMAN
Deutschland´s meist gefolgter
SOCIAL MEDIA COACH
"Every third person with an internet access is using facebook at least once per day. I help businesses to gain attention by using social media and live video effectively."
"Es wird immer schwieriger die Aufmerksamkeit in der relevanten Zielgruppe zu erhalten. Daher coache ich Unternehmen in der effektiven Nutzung von Social Media und Live Video, da hiermit immer mehr Menschen ihre Zeit verbringen"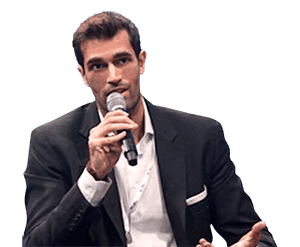 get my 5 takeaways from 1000 live streamsErhalte meine TOP 5 Tipps aus 1000 Live Video Streams
ABOUT ALEX KHAN
Über Alex Khan
Alex Khan is an entrepreneur, speaker and Germany´s most followed social media coach.
Alex Khan ist ein Unternehmer, Keynote Speaker und Deutschland´s meist gefolgter Social Media Coach.
On March 26th, 2015, the day of Periscope's official launch, Alex started a case study using Periscope and social media to build his personal brand. Within a year, he had 400,000 followers and the Huffington Post named him one of the TOP 10 Live Video Influencers. His hashtag #WeKhan registered 100 million impressions and touched 13 million people in 50 countries within the first three months.
As an educator and innovator, he trains brands all around the world on how to gain social media reach and turn it into profit.
Am 26. März 2015, dem offiziellen Launch von Periscope, startete Alex einen Selbstversuch, um zu zeigen was man erreichen kann, wenn man Social Media effektiv nutzt. Dabei verfolgte er das Ziel seine eigene Personal Brand zu etablieren. Innerhalb eines Jahres folgten ihm über 400.000 Menschen, die Huffington Post bezeichnete ihn als einer der TOP 10 Live Video Influencer und die Horizont als einer der TOP 10 Personen, denen man auf Snapchat folgen sollte. Sein Hashtag #WeKhan verzeichnete innerhalb der ersten 90 Tage 100 Millionen Aufrufe und erreichte 13 Millionen Menschen in 50 verschiedenen Ländern.
Alex Khan hält Vorträge, unterrichtet Social Media an seiner eigenen Online Akademie und berät Unternehmen, wie diese mit Hilfe von Social Media und Live Video nicht nur Follower aufbauen, sondern auch ihren Umsatz steigern.
LET´S STAY IN TOUCH
Lassen Sie uns in Kontakt bleiben